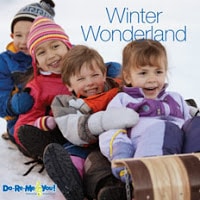 Kindermusik International is giving away music that makes celebrating the Holidays and Winter even more fun!
Download the  "Winter Wonderland" Album today using this link.
Stream the songs from your device while decorating! You'll discover new favorites to add to your family playlist.
Blast it in the kitchen while baking your favorite holiday cookies. Even your little ones can join in the fun with a pot and a wooden spoon to create their own kitchen band.
Jam in the car as you ride around town enjoying the sights & sounds of the holidays!
Snuggle under the covers and watch the snow fall while enjoying favorite songs about winter.
And remember – Music is a great tool for fighting the long, dark days of winter! Use music to beat the winter blues. It helps – the science is real. Here are 8 other tips to fight the winter blues with scientific backing.