Our Music Artistry Program includes several performance opportunities during the year – recitals, open-mic night, coffee house, and more.
This December 2017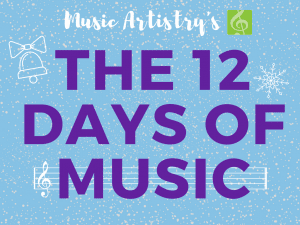 , we invite our Lesson Students to do something a little different. We are issuing the "12 Days of Music Challenge" to all of our Music Artistry Students. Every lesson student can take part in this music-making challenge during these 12 days – it's easy!
What is the Challenge?
We invite each of our Music Artistry Students to record themselves performing a song on their instrument between December 11th and December 22nd.
How do I participate?
Students are invited to choose a favorite song or a holiday selection that is family friendly and ready to be recorded. Consider using an African Selection that would tie into your Passport!
Students can start recording a selection at home right away or during their lesson with the help of their teacher.
Perform a simple, 10 minute "Self-Assessment" of your performance. See our blog post on how to do a self-assessment and why it's so important. 
Post the video to FB to be eligible for our daily winner. You must tag us in the post @KindermusikwithKathysMusic and add #12DaysOfMusic.
Take time each day to watch others perform and give positive feedback. Learn more about who's in our school community and what instrument they are playing, while developing your own musical ear.
Decide who you will share your recording with and "give your music away" this holiday season.  Here's a list of tools you can use to create a video e-card.
Daily Winner – How does that work?
At the end of each day we will draw a winner by searching for the hashtag #12DaysofMusic. Note we must also be tagged in the post (@KindermusikwithKathysMusic)
The prize will be a $5 Starbucks card. We will announce the winners at the end of the 12 Days and mail the Gift Cards to your home.
What are the Rewards?
Celebrating progress with a no-stress performance.
Creating community with other musicians in our school.
Building self confidence as you learn to critique your own recordings and set goals for improvement. This is part of taking responsibility for your own learning!
Giving away your music is intrinsically rewarding. It's something that only YOU can do. So practice doing it often – starting now!
We can't wait to see your recordings! Best wishes for a wonderful holiday season. May it be filled with music, family, and friends.