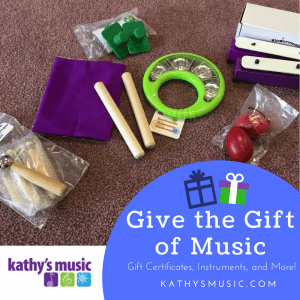 Give the Gift of Instruments this Holiday Season! Purchase them in class using our Holiday Instrument Boutique.
An instrument collection is a must for every musical child.
By having instruments available at home, your child can take their Kindermusik class experience to any room in the house or even the car. Your monthly tuition becomes an investment!
We believe in the value of a home instrument collection! In fact, we believe in it so much, that your child's Kindermusik enrollment includes an instrument for home in the fall and then another instrument goes home in the spring! With each year that you stay with our program, we will help you build an engaging collection.
Your child's instrument collection becomes a picture of their progression. The instruments will tell the story of the first time they tapped an egg shaker or the first time they kept the beat with you using sand blocks, or their first ensemble with resonator bars in a preschool class.
Making music with new instruments over time, invites your child to master fine motor skills, develop steady beat, develop early ensemble skills, increase rhythmic awareness, and more. (BONUS: New research tells us that steady beat activities enhance a child's language acquisition, too!)
We recommend the following instruments based on age:
Create My Baby and Me time with these special instruments for 0-24 months:
Egg Shakers (pair) – your little one will want one for each hand!
Baby Bells – (included in your Fall 16 Enrollment)
Double Egg Cha-Cha (included with your Fall 17 enrollment)
Rainbow Shaker
Scarf – Because your baby LOVES Peekaboo games!  Scarf games invite bonding between parent and child that has surprising benefits.
Chime Ball
Drum (baby safe)
Create Your Own Toddler Band with instruments for 2's and 3's:
Rhythm sticks (pair)
2 one-bell jingles (coming in Spring 18)
Zig-Zag blocks (included in the Fall 16 enrollment)
Sandblocks (included in your Fall 17 enrollment)
NEW: Toddler Maracas (pair)
Tambourine
Hand Drum
Use your new instruments and enjoy the "8 Best Kindermusik Activities to Do at Home".
Preparing Preschoolers for Formal Music Lessons with instruments for 3's, 4's, and 5's:
Wooden Maracas (pair)
Lummi Sticks (included in your Fall 17 enrollment)
Seashell Castanets (included in the Spring 17 enrollment)
Ankle Bells (included in Fall 16 enrollment)
Triangle and striker
Castanets
Guiro and Scraper (coming in Spring 18)
Resonator Bars with mallets – This pitched instrument helps prepare your child for the glockenspiel, our featured instrument in Level 4 where we teach children to read notes and count rhythms!
We know how important it is to prepare children for formal music lessons – these instruments can help!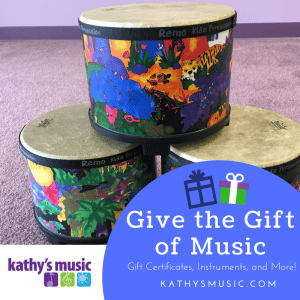 Our Favorite Drum for Class & Home: Remo Kids Floor Tom Drum from West Music. It's an instrument that will last 20 years (no kidding). We invite you to use your hands to make a variety of sounds rather than the mallet. It will strengthen your child's hand while producing many different timbres or sounds. Your child will be tapping, scraping, tracing, hammer, knocking, rubbing, and tickling to the steady beat!