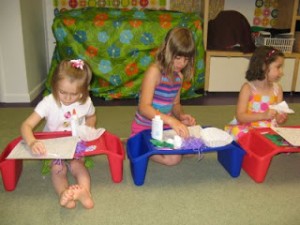 by Kathy Morrison
It all started with a "fresh project."
You see, my mother and I LOVE doing crafts together. From the time I was a little girl we were always making, baking, sewing, puzzling, something! Any trip to Poston's (our neighborhood craft store in West Palm Beach back in the 70's and 80s) was a BIG DEAL!
So it was only natural when I had children of my own that my mom would start doing crafts with my daughters at a young age. I mean early – like 2 years old early. And it was a BIG HIT!
We had no idea it would become such a big thing. The anticipation was often worded with "Grandmommy, do you have a fresh project?" (translate ~ what are we doing today? And it needs to be something we've never done before). Keep in mind this was 20 year ago. LONG BEFORE Pinterest. If only we'd had that at our fingertips then like we do now.
So, yes, I LOVE Pinterest. I use it all the time when creating ideas for our Kindermusik summer camps. BUT I am often overwhelmed when I start looking around. Know the feeling??
Several years ago, I started gathering favorite ideas to help parents find "fresh projects" to make the holidays easier. I hope you are inspired. If you discover a new "fresh project" that your child loves, would you share it with me? I'll add it to our board.
We invite you to follow our boards at Kathy's Music, LLC at pinterest.com.
We created a board for Thanksgiving.
We created a board for the Holidays.
There are other board too such as "Carnival of the Animals". Crafts and music just go together. That's why we include them every summer in our drop-off camps.
Happy pinning!