Your child is telling you they want to play piano, but you don't know what to do. She's young but passionate. He's begging you every week and yet you don't own a piano.
If your child is between the ages of 4 and 6, choose Piano Corner Camp this summer.
It provide an excellent introduction with keyboard geography and basic rhythms.
You'll know for sure at the end if they are truly interested and want to keep going or not.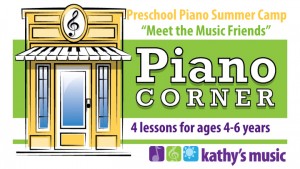 If your child is 6 years or older, we recommend a set of 6 piano lessons called "Summer 6 Pack" with one of our Music Artistry Teachers. We do recommend that you have at least a keyboard available for practice. Chances are you could borrow one for 6 weeks just to see how things go. There's no registration fee or obligation to continue into the fall.
Enroll now for a Summer 6 Pack of Lessons.
Did you know? We take students of all ages. So if the student is YOU, we can help!
BONUS: We offer Meet The Instrument Events where students and parents are invited to come and learn more about their choices for instrument and voice study. Meet our teachers, talk to one of our team members, and see our studio space. We can't wait to meet you.
Save a space at one of our Meet The Instrument Events in May. You can even sign up for a Summer 6-pack of lessons that night.